Better Together: Types of Tax Filing Statuses for Couples
For newly married couples, determining which filing status best fits their situation is one of those very important but sometimes overlooked things. Choosing a status that is not best suited to the couple's specific situation could mean that they end up paying more income taxes than necessary.
Please use this guide to help determine which filing status may be the best for the couple's wallet.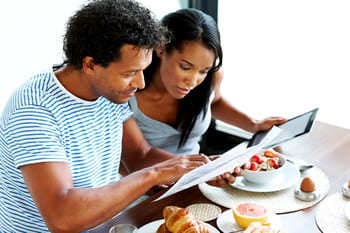 Understand the Filing Statuses
The IRS offers five filing statuses:
Single
Married filing jointly
Married filing separately
Head of household
Qualifying widow(er) with dependent child
Couples should weigh the pros and cons of married filing separately vs jointly. Before you choose which one of these is best for you, however, you should first make sure that the IRS will view the two of you as married when you file your taxes. You are considered married if any of the following items are true:
You and your spouse are legally married and are living together.
You and your significant other are not legally married but are living together and qualify for common law marriage. Regulations on common law marriage vary from state to state, so be sure to research how your state views this.
You are married and living apart, but you are not legally separated or divorced.
You are separated under an interlocutory divorce, not a final divorce.
It doesn't matter if you got married on January 1 or December 31 of the tax year. As long as you are married on the last day of the tax year, you are considered to be married for the entire year. Also, if one of the spouses dies during the year, the other may still file a joint return on behalf of the two.
Should You File Separately or Together?
In most cases, you'll end up paying fewer taxes if you and your spouse file your taxes jointly. Joint filers have the advantage of being able to use the full standard deduction which is double the amount of the standard deduction for single filers or for married people who were filing separately.
It is also worth noting that tax bracket thresholds are lower for people who file separately than those who file jointly. In a scenario where one spouse earns significantly more than another, this can provide joint filers another advantage.
Filing together also makes it easier for you to qualify for certain tax credits, including the following:
Earned income tax credit.
American Opportunity and Lifetime Learning education tax credits.
Adoption expenses credits.
Child and Dependent Care Tax Credit.
In some cases, taxpayers may be disqualified altogether from certain tax credits if they choose to file separately.
The cumulative monetary advantages of filing jointly rather than separately can amount to thousands of dollars. Further, taxpayers may be able to reduce the amount of paperwork they need to complete by choosing to file jointly.
When to File Separately
Given the benefits that you may receive from filing your taxes jointly, you may be wondering: is there an advantage to filing separately? In some cases is it wiser to file separately instead of filing jointly but these cases are not very common. Click the following for information and examples when filing separate may be the better option.
If you have any doubts regarding which option is best for your family, you can always use E-file.com to prepare your return both ways to see which method generates the bigger refund or lower tax bill.