Warning Regarding IRS Fraud Emails and other Scams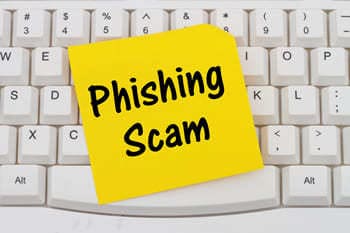 Unfortunately, every year it seems we hear news of unsuspecting taxpayers who have been taken advantage of by someone posing as having a relationship with the IRS. We not only want to protect our customers from fraudulent scams such as this but all taxpayers. As such, here are a few of some of the more popular schemes which we are aware of fraudsters using to steal identities and swindle money:
Phishing Scams
Phishing, or the sending of fraudulent emails and communication which appears to be from someone it is not, is a popular strategy for criminals attempting to steal identities. Fraudulent emails seem to be getting more and more difficult to spot. So, we suggest operating by this rule, if you receive an email from anyone, claiming to be from the IRS or anywhere else, NEVER provide any personal information over email. First off, you risk the threat of this being some scam, second you risk the threat of the email being intercepted. If personal information is in fact required for anything, provide it to the person by looking up the contact information made public on the official government or company website (e.g. IRS.gov) and call them.
Be aware of the fact that the IRS and other financial government agencies do not use electronic communications to correspond with taxpayers. If you do receive a phishing email, be sure to report the email by forwarding the email to the IRS at phishing@irs.gov.
Fake Preparers
Electronically filing your own taxes is now much easier than it was in the past, thanks to software programs such as ours. If you feel more comfortable hiring an accountant to prepare and file your taxes, please beware that there have been instances of scam-artists setting up phony preparation offices in an effort to steal a taxpayer's identity or their refund. Legitimate preparers should have a Preparer's Tax ID number that you can verify with the IRS. If the preparer is not willing to provide this number and proof of a valid business license, consider going elsewhere.
Pretending to Be a Charity
For those that frequently donate to new charitable causes, please be aware that criminals have used this as a way of targeting those who believe in donating to the less fortunate. One popular scheme starts by the solicitation of donations either over the phone or email, often claiming, among other things, that they are a 501c3 or that donations are fully tax deductible. The name of the fake-charity in which they are soliciting for can sometimes even resemble a real charity. Whenever you are considering donating to a new cause and they have solicited you, please make sure to have them send you the information in writing, make sure that they in fact are a recognized charity by the IRS (you can search organizations with the EO check tool here) and finally check that the organization to which you are providing a check or credit card matches the information on the IRS website.
Stolen Identity
It has become all too common for criminals to steal an identity and use that information to obtain a filer's refund. If you ever become the victim of stolen identity or believe your identity has been compromised, be sure to contact the IRS Identity Protection Specialized Unit as soon as possible at 800-908-4490, and the agency will place a block on your tax account for your protection. The first step in protecting yourself is be informed about some of these popular schemes but you also must stay on your toes. Look out for the red flags, and do not fall for the schemes that so many victims have fallen for recently. The IRS is making an effort to reduce fraud, but you must do your part as well.