What to Know About Filing Maine Income Taxes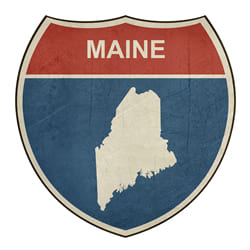 Three income tax rates create about 47% of the state government's revenue. Maine tax rates range from zero to 7.95%. The 6.5% bracket covers earnings between $5,200 and $20,900. The state taxes all income over $20,900 at 7.95%.
If a person's earnings exceed his or her personal exemptions and standard deduction, a tax return must be filed. Both residents and nonresidents need to pay taxes when they work or earn income inside the state. Every year, Form 1040ME comes due on April 15. Taxpayers may file Maine taxes online or use paper forms.
Receive an Extension to File
When someone can't complete a return by April 15 and needs a deadline extension, he or she still has to estimate and pay the tax. Always complete and enclose Form 1040EXT-ME when making an estimated payment of this type. Taxpayers who want to update previous Maine tax returns must use paper forms and refer to the correct year's directions. Fill out Form 1040X-ME to amend pre-2013 returns. Individuals can update more recent filings by completing Form 1040ME.
Forms to File Maine Taxes
Taxpayers may attach a variety of optional forms to their annual returns. Schedule PTFC enables some renters and homeowners to claim a refundable Property Tax Fairness Credit. It's possible to add charitable donations or buy state park passes by completing Schedule CP. Other forms facilitate childcare tax credits, itemized deductions and credits for paying income taxes in other states.
It's possible to track an upcoming Maine tax refund on the state website. Users must enter their Social Security numbers and refund amounts. To access it, go to portal portal.maine.gov/refundstatus/refund and click "1040 Refund Status."
Estimated Payments
Unless an employer withholds these funds, people need to make quarterly estimated payments if they owe at least $1,000 per year. They can pay online, use money orders or mail checks to :
Maine Revenue Services,
P.O. Box 9101
Augusta, ME 04332-9101

Taxpayers must fill out Form 1040ES-ME every time they submit these payments. They're due mid-month in September, January, April and June. Individuals may need to pay penalties if they underestimate their tax bills.

Fines and Penalties
The state government fines taxpayers who miss deadlines to send payments or file returns. They must pay the greater of $25 or one-tenth of the overdue amount. This penalty rises to 25% if a person neglects to follow the instructions in a printed "demand notice" from Revenue Services. People who fail to make adequate estimated payments can use Form 2210ME to find out if they face penalties. The answer partially depends on how much money an individual earned during the previous year.
Note: States & U.S. territories may make changes to their tax laws with little notice. We do our best to keep this information up-to-date, but it is provided on an "AS IS" basis. For more see our terms.