How to File Your Michigan Tax Return & Get Tax Refund Faster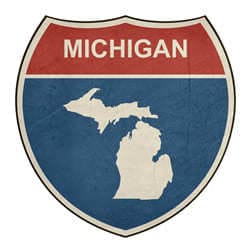 All Michigan tax filers should use Form MI-1040, including non-resident and partial-year filers. Only those whose Federal Adjusted Gross Income (AGI) is less than the personal exemption amount on Form MI-1040 are exempt from filing a Michigan income tax return. Nonresidents and partial-year residents must also include Schedule NR with their MI-1040. The state's recent income tax rate is 4.25% for all filers.
Several tax credits are offered to qualifying individuals. The Homestead Property Tax Credit (Form MI1040CR) is designed to help qualified filers offset property tax expenses. The credit is available to both homeowners and renters. Filers may qualify if they resided in the state for at least six months and their total household resources were less than $50,000. Special qualifications are available to veterans and the blind (Form MI-1040CR-2). The Farmland Preservation Tax Credit (Form 1040CR-5) is intended to offset a portion of the property taxes paid by farmers. To qualify for the credit, farm owners must agree to only use the land for farming purposes. The Home Heating Credit is for filers who meet the income requirements to help offset heating expenses.
Michigan Tax Payments
Filers can submit tax payments at any time, even before they have received a bill or statement. The Michigan Department of Treasury does not accept payments over the phone. For electronic payments, filers can use the Individual Income Tax e-Payment system. Filers can check the status of their return or Michigan tax refund at www.michigan.gov/taxes/0,4676,7-238-43513_75466---,00.html.
Tax Extensions & Receiving an Assessment
Filers requesting an extension must complete the Application for Extension of Time to File, also known as Form 4. Those who have already received a federal extension will qualify for a new state due date as well. Even those who don't qualify for a federal extension may still qualify for a Michigan extension. If so, the treasury may extend the due date 180 days.
An extension to file is not an extension to pay. Tax payments will still be due on April 15 of the filing year. Unpaid balances will accrue penalties and interests even if an extension to file is granted.
Extensions with payments should be mailed to:
Department of Treasury
Lansing, MI 48929

Without payments should be mailed to:
Department of Treasury
Lansing, MI 48956

If a filer receives a Proposed Tax Due, Notice of Intent to Access and/or a Bill for Taxes Due and wishes to pay electronically, payment can be made on the e-Service system. The assessment number listed on the above forms must be included with the payment for proper processing.
The interest rate for late payments is 1% above the adjusted prime rate. Additional penalties may include a 5% charge of the initial balance. An additional 5% may be added to the unpaid balance each month. Other potential fees include a 10% charge for negligence and a 25% charge for "intentional disregard of the law."
Note: States & U.S. territories may make changes to their tax laws with little notice. We do our best to keep this information up-to-date, but it is provided on an "AS IS" basis. For more see our terms.